In order to produce a successful advertising video, product video or image film in Düsseldorf, planning is important in addition to the idea. Our video agency divides the video production process into five essential steps: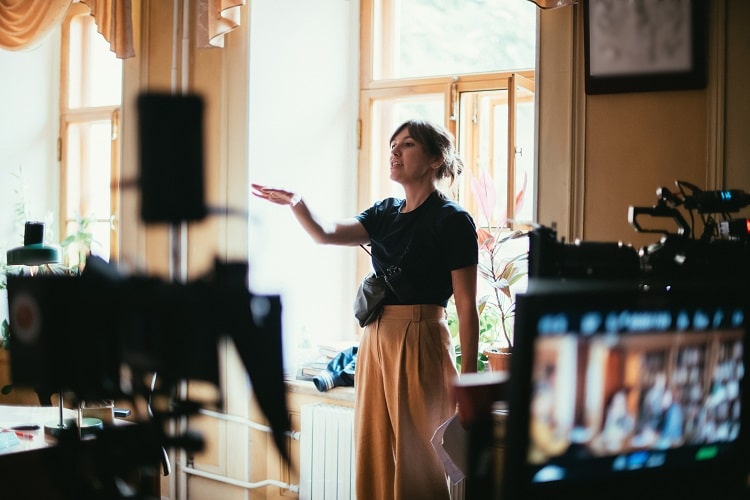 Preproduction
Production
Postproduction
Correction loop
Dispensing and distribution


Each of these five steps includes other small processes that make up a professional video production in the end. Through our detailed elaboration as well as organization and preparation, we create your individual video, the result of which will convince not only you, but also your target group in the end!
In the following, we describe the individual steps of a video production in Düsseldorf with us in more detail to give you an idea of what you can expect from us:


#Preproduction
In the beginning is the idea.
Since not everyone has a perfect idea right away, we take a lot of time for planning in this phase. Your wishes and suggestions are particularly important to us.
#

Production

Once the plan is in place, we're ready to go: We shoot your film. With the most modern equipment, the previously prepared shooting schedule and all our creative power, we thus create the optimal film result.
#

Postproduction

Once all the recordings are in the can, the first cut is made and all the building blocks such as sound, music and initial effects are put together.
. With this you will then receive our first proposal.
#

Correction

With your feedback in mind, we then create your finished video. Based on your wishes or any changes, further fine-tuning is also done in this step. Such as color corrections and the soundtrack.
#

Dispensing and distribution

If everything corresponds to your wishes,
you will receive your finished video.
This you can distribute on all your different channels
and thus specifically address your target audience.

With your image film, advertising or product video on the Internet, on your website or on various social media channels, you inspire your customers, create emotions and trust.

So get started! And contact us now to realize your next video project.